The Amulet of GhostSpeak is gained through talking to Urhney in Lumbridge Swamp during the quest The Restless Ghost. Its purpose is to talk to the ghost during the quest. After the quest is complete, it becomes useless and only functions as a cosmetic item.
Despite the red thunderbolt that appears in its inventory icon, this amulet's appearance when worn is a plain silver necklace and is identical in appearance to the Amulet of Accuracy.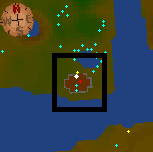 You can obtain more than one amulet at a time by dropping the amulet, talking to Urhney, then picking up the one you dropped. Because multiple amulets can be obtained, this item is not considered rare.
The Restless Ghost
Characters

Priest • Father Urhney • Ghost

Items

Amulet of GhostSpeak Skull

Monsters

Skeleton
Jewellery
Rings
Necklaces
Amulets
Enchanted amulets

Magic • Protection • Strength • Power • Dragonstone

(

charged

)

Silver
Quest jewellery
Moulds

Ring • Necklace • Amulet • Holy symbol • Unholy symbol
Ad blocker interference detected!
Wikia is a free-to-use site that makes money from advertising. We have a modified experience for viewers using ad blockers

Wikia is not accessible if you've made further modifications. Remove the custom ad blocker rule(s) and the page will load as expected.