Baxtorian Falls is a waterfall and the surrounding area in northern Kandarin. The Waterfall Quest takes place in this area. It is north of the Combat Training Camp and east of the Tree Gnome Stronghold.
Baxtorian Falls contain two underground areas called Glarial's Tomb and Waterfall dungeon.
Almera's house and the Tourist Information Centre are found on the eastern side of the river.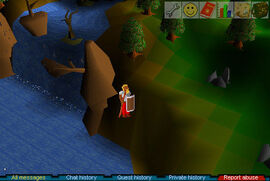 Mining rocks
Edit
Empty decorative rocks can be found all around Baxtorian Falls from near Moss Giants in the south to all the way to the northern border. There are, however, three mining locations with a total of nine Copper rocks.
See Also
Edit
Almera, featured in the Waterfall quest
Hudon, Almera's son
Log raft, used to transport from Almera's house to near the Waterfall dungeon entrance
Ad blocker interference detected!
Wikia is a free-to-use site that makes money from advertising. We have a modified experience for viewers using ad blockers

Wikia is not accessible if you've made further modifications. Remove the custom ad blocker rule(s) and the page will load as expected.