Not to be confused with Asgarnian Ale
A Beer is consumable item that, when consumed, heals the player by one hits and boosts their strength level by 4% (rounded down) and reduces their attack by 7% (rounded up). It can can be bought from the many bartenders found throughout RuneScape Classic for two coins each. There is also a respawn of beer in the Longhall of Barbarian Village.
One beer is a necessary item required to complete the Vampire Slayer quest by getting Doctor Harlow to give you a wooden stake. Three glasses of beer are required to get the Jail Guards in Draynor drunk during the Prince Ali Rescue quest. Beer can also be used to train Attack beyond level 8 on dummies (without receiving Hits experience).
These beers can be purchased from bartenders at the following locations
Dropped by
Edit
They are dropped by: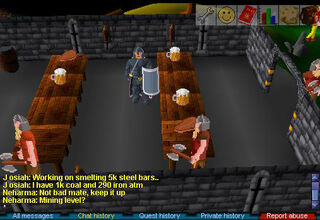 Drinks (Food)
Beers

Asgarnian Ale • Beer • Dragon bitter • Dwarven Stout • Greenmans ale • Grog • Wizard's Mind Bomb

Strong

Brandy • Gin • Karamja Rum • Khali brew • Vodka • Whisky

Cocktails
Other
Prince Ali Rescue
Characters
Items

Ashes • Balls of wool •

3

Beers • Bucket of water • Bronze bar • Bronze key • Flour • Keyprint •

2

Onions • Paste • Skirt • Redberries • Rope • Soft Clay • Yellowdye • Wig

Monsters

Jailguard