Black dragons are the strongest type of dragons out of the colours of dragons - blue, red and black. The King Black Dragon is the only dragon that is stronger than black dragons. Black dragons can be found in Taverley dungeon and the Lava Maze dungeon.
Equipment
Edit
Like all dragons, fighting them using the Paralyze Monster prayer is very helpful as they cannot attack back. Bringing restore prayer potions would be wise to restore prayer points if using this prayer.
Recommended equipment
Anti-dragon shield (Failure to equip the anti-dragon shield while fighting dragons is very dangerous as they can hit very high numbers.)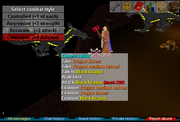 100% drop
Edit
All herbs are dropped in Unidentified form.
Rare drop table
Edit
Dragons
Blue Dragon
(baby)
•
Red dragon
•
Black Dragon
Ad blocker interference detected!
Wikia is a free-to-use site that makes money from advertising. We have a modified experience for viewers using ad blockers

Wikia is not accessible if you've made further modifications. Remove the custom ad blocker rule(s) and the page will load as expected.