Blessed Spiders are monsters found in the Underground Pass dungeon. They can still be fought after the quest is completed. They offer some of the best combat experience in RuneScape Classic, though they offer no loot. Following the Underground Pass quest guide is recommended in order to locate them, as is keeping a teleport spell or dragonstone amulet to quickly escape afterwards.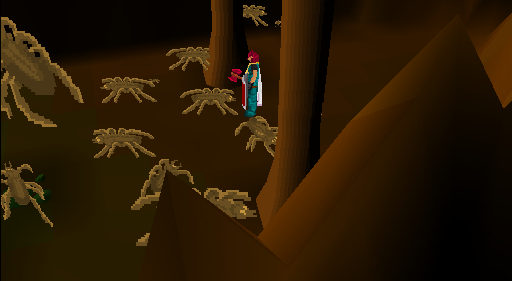 Underground Pass
Characters

King Lathas • Koftik • Kamen • Klank • Niloof • Kardia the Witch • Iban

Items

Damp cloth • Doused Arrow • Lit Arrow • Rocks • Randas's journal • Old Journal • Orbs of light • Railing • Unicorn horn • Coat of Arms • Cat • Amulet of Doomion

,

Holthion

,

Othainian • Iban's conscience • Iban's shadow • Ibans Ashes • A Doll of Iban • Klank's gauntlets • Dwarf brew • Robes of Zamorak • Staff of Iban

(

broken

)

Monsters

Slaves • Paladins • Kalrag • Doomion • Holthion • Othainian • Souless • Blessed Vermen • Blessed Spiders • Iban disciples
Spiders
Spider
•

Giant Spider
•

Dungeon spider
•

Blessed Spider
•
Deadly Red spider
•
Jungle Spider
•

Shadow spider
•

Poison Spider
•
Ice spider
•
Kalrag
Ad blocker interference detected!
Wikia is a free-to-use site that makes money from advertising. We have a modified experience for viewers using ad blockers

Wikia is not accessible if you've made further modifications. Remove the custom ad blocker rule(s) and the page will load as expected.