A Christmas cracker is a discontinued holiday item that was dropped during the 2001 Christmas event on 25 December 2001 - RuneScape's first Christmas event. They are traded for a high price because of their rarity.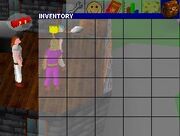 A Christmas cracker holds a Party Hat and one miscellaneous item - the possibilities are a gold ring, holy symbol, silk, spinach roll, chocolate bar, chocolate cake, silver bar, law-rune, black dagger, and iron ore certificate. To open it, one player must use it with another player. Upon pulling it one player will get a partyhat and the other player will get the other item.
Party Hats come in 6 colours: Yellow, Red, White, Green, Blue, and Pink. In RuneScape 2, the Pink Party Hat was changed to a Purple Party Hat.
Discontinued items

Bunny ears
•

Christmas cracker
•
Disk of returning
•

Easter Egg
•

Half Full wine jug
•



Halloween Mask
•






Party Hat
•

Pumpkin
•

Santa's hat
•

Scythe