Coal Trucks is a mine in northern Kandarin. It is the location of several Coal rocks and mine carts holding up to 120 coal. The cart track can transport the coal to a building west of Seer's Village bank. Level 20 Agility is required to cross the log balance shortcut from Seer's Village.
Dwarf Cannon quest starts in the location and during the quest the surrounding fence is repaired with railings and the Dwarf cannon in the shed is repaired with a Tool kit.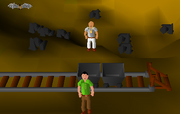 Mining Rocks
Ad blocker interference detected!
Wikia is a free-to-use site that makes money from advertising. We have a modified experience for viewers using ad blockers

Wikia is not accessible if you've made further modifications. Remove the custom ad blocker rule(s) and the page will load as expected.