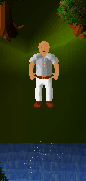 For information on training this skill, see Fishing training.
Fishing is a skill in RuneScape Classic that allows players to catch fish which can then be eaten when cooked using the Cooking skill.
Starting out
Edit
Head to Gerrant's Fishy Business in Port Sarim or Harry's Fishing Shack in Catherby to buy some equipment. After you have a fishing item you need to find areas where you can fish. On the world map, areas with a red fish means it's a fishing spot. You can use the cooking skill to cook your fish or you could simply sell them to players raw or to the general store.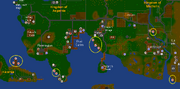 Fishing Equipment
Edit
To fish in RuneScape Classic you will need a tool with which to fish. Fishing tools can be purchased at fishing shops found in Port Sarim and Catherby. Oily Fishing Rod is only obtainable during Hero's Quest.
There are many different types of fish that can be caught throughout RuneScape Classic. When a player catches a fish, it will come in raw form which must be cooked before it can be used as food to restore Hits.
The sea turtle and manta ray can only be caught on the fishing trawler minigame.
Other items
Edit
While fishing with big nets you will occasionally catch things other than fish like the following:
Fishing locations
Edit
See: Fishing spot for more details on the types of fishing spots
Net / Bait
Edit
Lure / Bait
Edit
Harpoon / Cage
Edit
Big Net / Harpoon
Edit
Tks was the first to gain mastery in fishing.
Ad blocker interference detected!
Wikia is a free-to-use site that makes money from advertising. We have a modified experience for viewers using ad blockers

Wikia is not accessible if you've made further modifications. Remove the custom ad blocker rule(s) and the page will load as expected.