Walkthrough
Edit
Talk to Trufitus Shakaya in Tai Bwo Wannai Village. Ask him "What does Bwana mean?" and then tell him you come in peace to trigger the quest.
Snake weed
Edit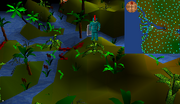 First, he will tell you to collect Snake weed.
It grows in the south west. Search a red Jungle Vine and it will appear on the ground.
Ardrigal
Edit
The clue given is to head east towards the PalmTrees. Search the palms in front of the gate to the ship yard.
Be prepared for aggressive Jungle Spiders (Level 47), however, they can usually be avoided.
Sito foil
Edit
By earth blackened by living fire - south of the village, where fires are burning. Search the scorched earth.
Volencia moss
Edit
Rogue's purse
Edit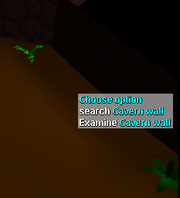 Armour and food is highly recommended for this part due to aggressive Jogres (Level 58)
Trufitus will tell you to find Rogue's purse.
The herb is in Jogre dungeon. The dungeon's entrance is found to the north along the coast. Search the rocks there and enter the cave. Beware of the aggressive Jogres that inhabit the dungeon!
Search a Cavern wall with green spots (fungus covered wall) to find the herb. This may take some time. Clean the herb. (The Jogres can drop grimy rogue's purse, but Trufitus will not accept one of these). To exit the dungeon, climb up the rocks where you entered it.
Bring this final herb to Trufitus.
Congratulations, quest complete!
Herblaw experience depending on your herblaw level:
| Herblaw level | Experience reward |
| --- | --- |
| 16 | 2400 |
| 17 | 2525 |
| 34 | 4650 |
Jungle Potion
Characters

Trufitus

Items
Monsters