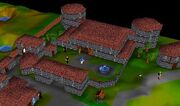 The
Lumbridge Castle
plays a massive place in the center of many
quests
. It houses many facilities, and is the crown gem of
Lumbridge
. Many newcomers often use this castle in order to train, as well as stay alive. This large castle is the centerpiece in much of the Free-to-Play world. It is located in
Lumbridge
, which is where newcomers arrive after tutorial island. This castle may be the most known place in all of RuneScape.
There are a few quests situated in the Lumbridge Castle. These include:
On the ground floor of the castle, there is a cook in need of assistance. Can you help him? See the Cook's Assistant guide for more information.
For Dragon Slayer, you need the Duke of Lumbridge's help to slay a mighty dragon.
Facilities
Edit
There are many facilities in Lumbridge Castle. On the ground floor there is a range by the chef, and there are 2 item respawns.
On the first floor there is bed and a spinning wheel, and the Duke of Lumbridge.
Inhabitants
Edit
There are several inhabitants of Lumbridge Castle. These include:
Ad blocker interference detected!
Wikia is a free-to-use site that makes money from advertising. We have a modified experience for viewers using ad blockers

Wikia is not accessible if you've made further modifications. Remove the custom ad blocker rule(s) and the page will load as expected.