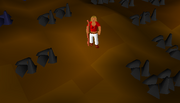 The Mining Guild is a guild that is dedicated to the skill mining. Players will need to have a mining level of 60 (or level 59 whilst using a Dwarven stout) to enter. The guild contains Mithril and Coal rocks and is the fastest location for players to mine Coal. The guild can be reached from either Dwarven Mine or Falador.
Mining Rocks
A map showing the location of the rocks is shown below.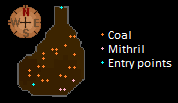 Aggressive monsters
Edit
Dwarf outside the northern entrance
Guilds
Skill based

Cooks' Guild • Crafting Guild • Fishing Guild • Mining Guild • Monastery • Wizards' Guild

Quest based
Ad blocker interference detected!
Wikia is a free-to-use site that makes money from advertising. We have a modified experience for viewers using ad blockers

Wikia is not accessible if you've made further modifications. Remove the custom ad blocker rule(s) and the page will load as expected.