Release date: 28 February 2001 (Update)
Start: Speak with Chancellor Hassan in Al-Kharid and ask him if he needs any help.
Difficulty:
*****
Length: Medium
Requirements: None
Items needed:
Monsters to kill: None
Walkthrough
Edit
To start the quest speak with Chancellor
Hassan
and ask him if he needs any help. He will then tell you to go see the spymaster
Osman
. After finding
Osman
who is just outside the palace he will tell you that the
Prince Ali
has been kidnapped by
Lady Keli
. You should now go to
Draynor Village
and find
Leela
, speak with her to get details on the items you need to collect to complete your mission.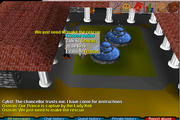 You should now:

Talk to Leela again, and she will tell you that Joe's weakness is beer. You will need three. Talk to Joe and give him all three beers. Once you have all of the escape equipment and you have immobilized him, use a rope on Lady Keli to tie her up. Use the key to unlock the cell and rescue the prince. Now return to Al Kharid for your reward.
Congratulations! Quest Complete!
700 coins (620 if you already collected the 80 after providing Osman with the keyprint)
Free passage through the Al-Kharid toll gate from now on.
Prince Ali Rescue
Characters
Items

Ashes • Balls of wool •

3

Beers • Bucket of water • Bronze bar • Bronze key • Flour • Keyprint •

2

Onions • Paste • Skirt • Redberries • Rope • Soft Clay • Yellowdye • Wig

Monsters

Jailguard