RuneScape uses the British convention for floor numbering: ground floor, first floor (immediately above the ground floor), second floor, etc.
The Grand Tree is located in the north-eastern corner of Tree Gnome Stronghold. It is a huge tree structure with Log bridges connecting to Tree platforms and four Watch towers. It has four floors and a dungeon underneath.
Gnome cooking and gnomish cocktail ingredients can be found on the 1st2nd floor[UK].
Ground floor
Edit
First floor
Edit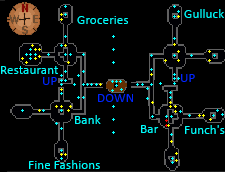 West side
East side
Second floor
Edit
Top floor
Edit
Ad blocker interference detected!
Wikia is a free-to-use site that makes money from advertising. We have a modified experience for viewers using ad blockers

Wikia is not accessible if you've made further modifications. Remove the custom ad blocker rule(s) and the page will load as expected.